Dental Bridges
"Dental Bridges are used to permanently replace missing or damaged teeth, the bridge
is made up of 2 or more dental crowns on teeth adjacent to the gap

"
Have Missing Teeth?
Talk to us about Dental Bridges
Come in for a consultation with one of our dentists to get understand more about bridges and other tooth replacement solutions and how they may be beneficial for you.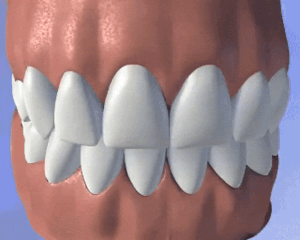 Dental Bridge – What Are They?
Dental bridges help in permanently replacing any missing teeth. Bridges are composed of at least two dental crowns on the teeth adjacent to the missing teeth area (gap), also known as abutments. The section of the bridge that sits over the missing tooth, and effectively replaces the tooth is called a "pontic" and it part stays on the gum between the crowns.
To put it simply, dental bridges, literally bridge the gap caused by a missing tooth.
Why Choose Bridges?
Bridges support the prevention of the teeth from drifting, maintaining face shape, restoring your smile, speaking ability, and chewing. They can be used on both dental implants and natural teeth.
Bridges are usually very aesthetically comfortable compared to removable dentures. They remain at a spot when not in use and removal is not necessary. However, special inter-dental aids are required for the right maintenance and cleaning.
Most people have reported great improvement in their life and are now confident in social spaces after experiencing a dental bridge.
The bridge gives a highly natural feeling and does not affect your speech, thereby maintaining your pronunciation. Patients have also reported less embarrassment from spilling of saliva when talking. They could also return back to their usual diet.
What Do They Do?
Restore a previously damaged smile
Restore chewing & speaking function caused by missing teeth
Improve/maintain facial features
Even distribution of bite force by replacing missing teeth
Ensures remaining teeth stay in position without drifting
Do Dental Bridges Feel Natural?
Bridges typically give patients a highly natural feeling; most patient realise the positive benefits of bridges almost immediately, improving speech and pronunciation. Patients have also reported improved confidence when speaking and no more spitting saliva when talking. They could also return back to their usual diet.
The Dental Bridging Process
On the first visit, a rigorous clinical examination using radiographs, will be conducted by your dentist. An evaluation of bridge suitability is done and preparatory work is performed. Your dentist will then recommend some materials based on your needs, educate you on the sequence of treatment and any answer questions you might have before starting treatment.
After receiving your confirmation to proceed with the procedure, the abutment teeth are then prepared. The process of preparation involves trimming these teeth down by removing portions of the tooth enamel to ensure sufficient space for a crown to be placed over them. After which, dental impressions of the teeth are then taken and sent to a dental lab where the bridge, 'pontic', and crowns will be fabricated by skilled dental technicians based on our dentists requirements. Your dentist will make a temporary bridge to wear to protect the exposed teeth and gums while the permanent bridge is being made in the lab.
During the second visit, the temporary bridge will be removed and the new permanent porcelain or metal bridge will be fitted and adjusted, to achieve a proper fit, function and aesthetics. Multiple visits may be required to adjust and fine tune the fit and bite. This final process is highly variable from person to person. If the type of dental bridge being fitted is a fixed dental bridge, your dentist may temporarily cement it in place for a couple of weeks to ensure proper fitting. Before the bridge is permanently cemented into place.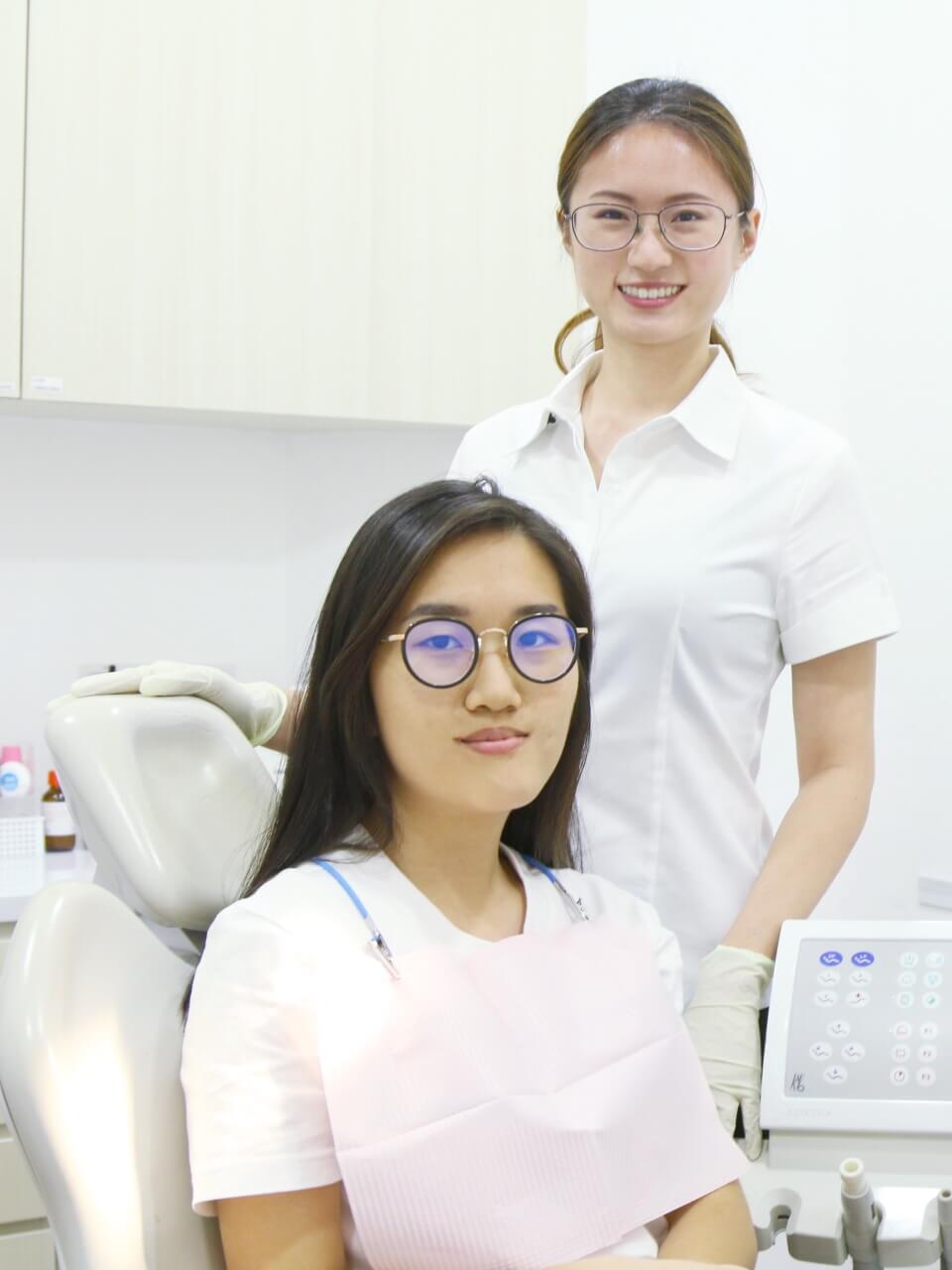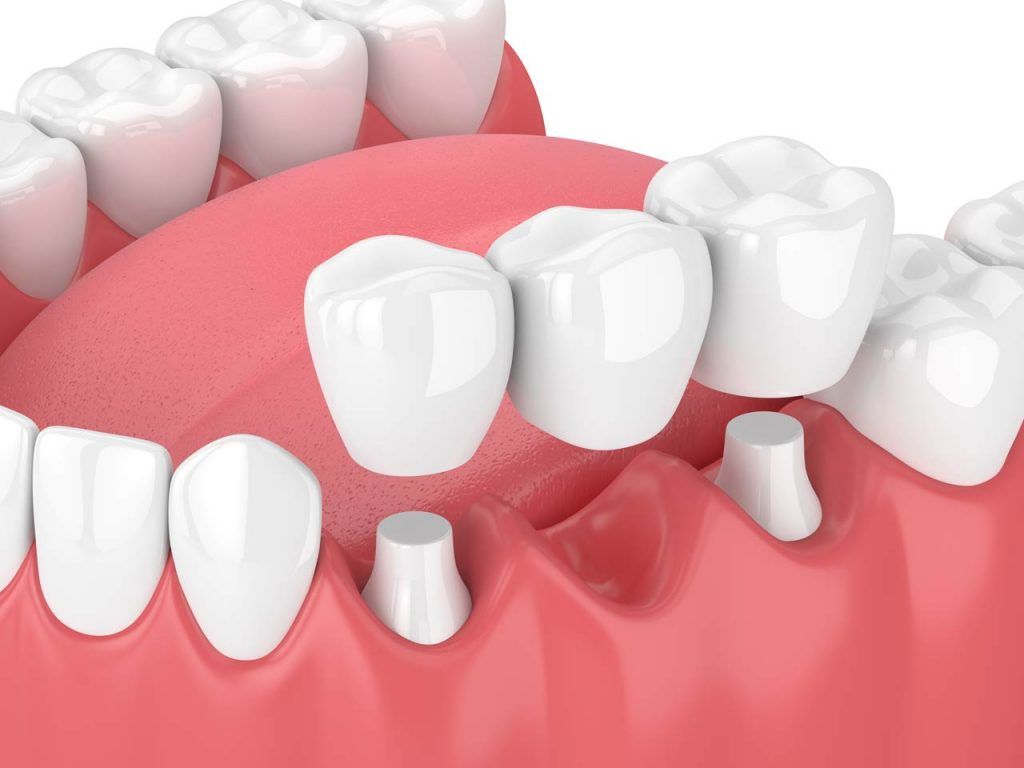 Process Summarised
There are 2-3 visits to achieve in getting your dental bridge, and it involves:
The preparation of abutments to eliminate damage and decay
A dental impression is taken and sent to dental lab
A temporary bridge is placed over 'prepared' abutments
The permanent dental bridge is developed in a dental lab
After receiving permanent bridge, dentist will check dental bridge for fit and aesthetics.
Adjustments are made if necessary
Cement permanent bridge on
New Smile Achieved
Frequently Asked Questions
Commonly asked questions our dentists get about Dental Bridges
How Much Does a Bridge Cost?
The pricing of a bridge varies as there are many factor to take into account, ranging from the type of material used in the fabrication of the bridge to the number of crown units required for the bridge. Moreover, other factors such as the inclusion of dental implants in the treatment will also factor additional cost into the final pricing of the entire procedure.
Speak to one of our dentists to understand more about bridges and the prices associated with your treatment.
How long do dental bridges last?
Dental bridges typically last for 15 years on average. With good oral hygiene and regular checkups, it's not unusual for dental bridges to last more than 15 years.
Will getting a dental bridge make it difficult for me to eat?
Getting a dental bridge should in fact make it easier for patients to eat by replacing the missing tooth. However, our dentists advice on only eating soft foods, until patients become accustomed to eating with the bridge.
How do I take care of a dental bridge?
Patient who have dental bridges must remember that the success of the dental bridge is highly reliant on the health of their remaining teeth as the dental bridge is highly reliant on the solid foundation of surrounding teeth. Burshing twice a day and flossing and using proper mouthwash, will help prevent the decay of teeth. Our dentists and clinical support team will educate you on the proper methods of flossing and brushing is a dental bridge.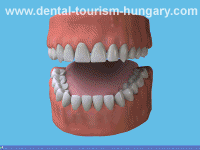 Other Dental Services
Here are some other services related to Dental Bridges that you might be interested in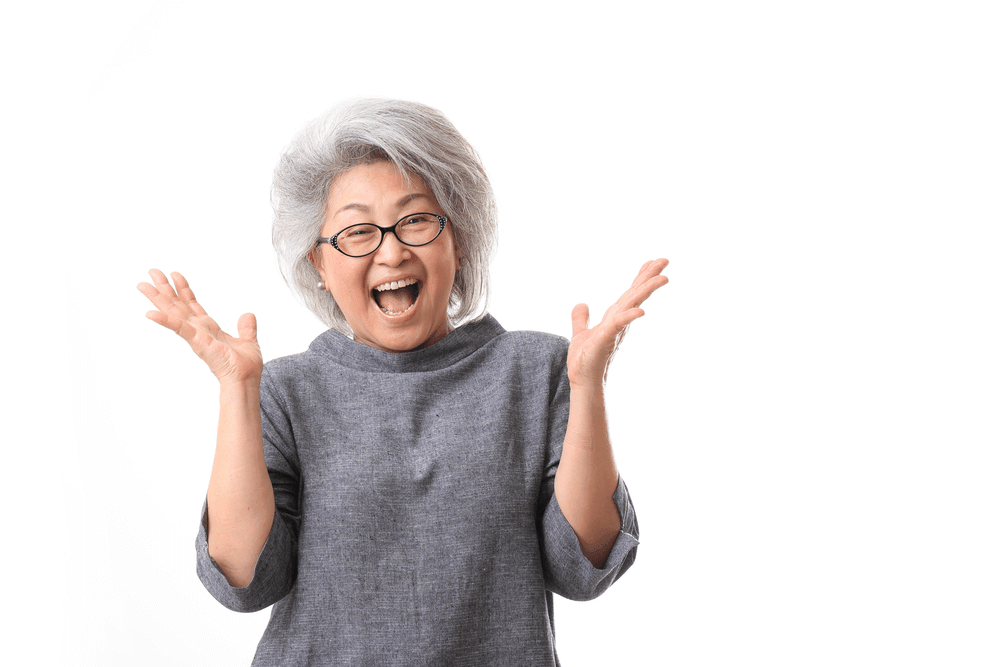 Dental Implants – The Solutions to Missing Teeth.
Dental Crowns – The Solution to Damaged Teeth.

At NoFrills Dental, we take great pride in delivering a holistic high quality dental experience through our professional excellence.
We believe in accessible & affordable dental care for all.
3 Temasek Boulevard, #03-317
Suntec City North Wing, Between Tower 1 & 2, Lobby H,
Singapore 038983
Tel: 6337 7319
6 Raffles Blvd, #B1-11
Marina Square
(Exit B, Esplanade MRT Station)
Singapore 039594
Tel: 6227 8885