Veneers
"Dental Veneers are the answer to that perfect Hollywood you've always wanted ."
Perfect Smile & Teeth?
Talk to us about Veneers
Come in for a consultation with one of our dentists to get understand more about veneers and how they can help you achieve that perfect Hollywood smile you've always wanted.
Dental Veneers – What Are They?
Veneers are ceramic laminates that are customised to each patient's front teeth. Veneers are typically use to correct defects in a person's smile. Issues such as crooked teeth, discoloured teeth, oddly shaped teeth, chipped teeth, overly long, short, wide teeth can be reshaped through the use of veneers. Traditionally, dentists classify veneers as a prosthetic device used for aesthetic dentistry with the aim of correcting some aesthetic issues by giving patients a specially designed set of artificially enhanced teeth. This process paired with orthodontic treatment such as Invisalign or Braces allow our dentists to craft the perfect Hollywood smile that you have always wanted.
Dental veneers are typically made from a translucent ceramic material and fully customised to match the tooth colour of existing teeth. However, if patients wish to change the colour of their teeth, this is also possible through the use of veneers, as veneers allow our dentists to fully create a brand-new white smile. Patients suffering from tetracycline or fluorosis teeth stains (which cannot be removed by teeth whitening) may find this a viable solution to remove those stains permanently. These fully customised veneers are typically 0.5mm thick and they are bonded directly onto the front of teeth, allowing dentists to change the colour, size, shape and length of teeth to the patient's liking.
Dental Veneers allow patients to cover defects such as tooth shape, colour, length and width. Allowing them to enjoy a perfect smile that they deserve.
Why Choose Dental Veneers?
Dental Veneers are a permanent treatment that involve the reshaping of natural teeth with custom-made ceramic veneers made for each and every tooth. Patients who undergo veneer treatment will enjoy a brand new smile that looks flawless, natural and perfectly shaped. Moreover, veneer teeth are highly resistant to staining as compared to natural teeth, allowing patients to enjoy food and beverages such as coffee, tea and red wine without needing to worry about discolouration or staining.
Patients undergoing veneer treatment will need to ensure that they have strong healthy teeth and gums before considering treatment. Any existing oral health issues will need to treated before veneers treatment can commence.
Veneers allow patients to fully transform their smiles. Paired with orthodontic treatment such as Invisalign or Braces allow our dentists to craft the perfect smile that you have always wanted.
After treatment, regular dental checkups and maintenance of veneers are an absolute must, in order for long lasting clinical success and reliability in the dental veneers. With proper care and maintenance, dental veneers can easily last more than a decade before being replaced.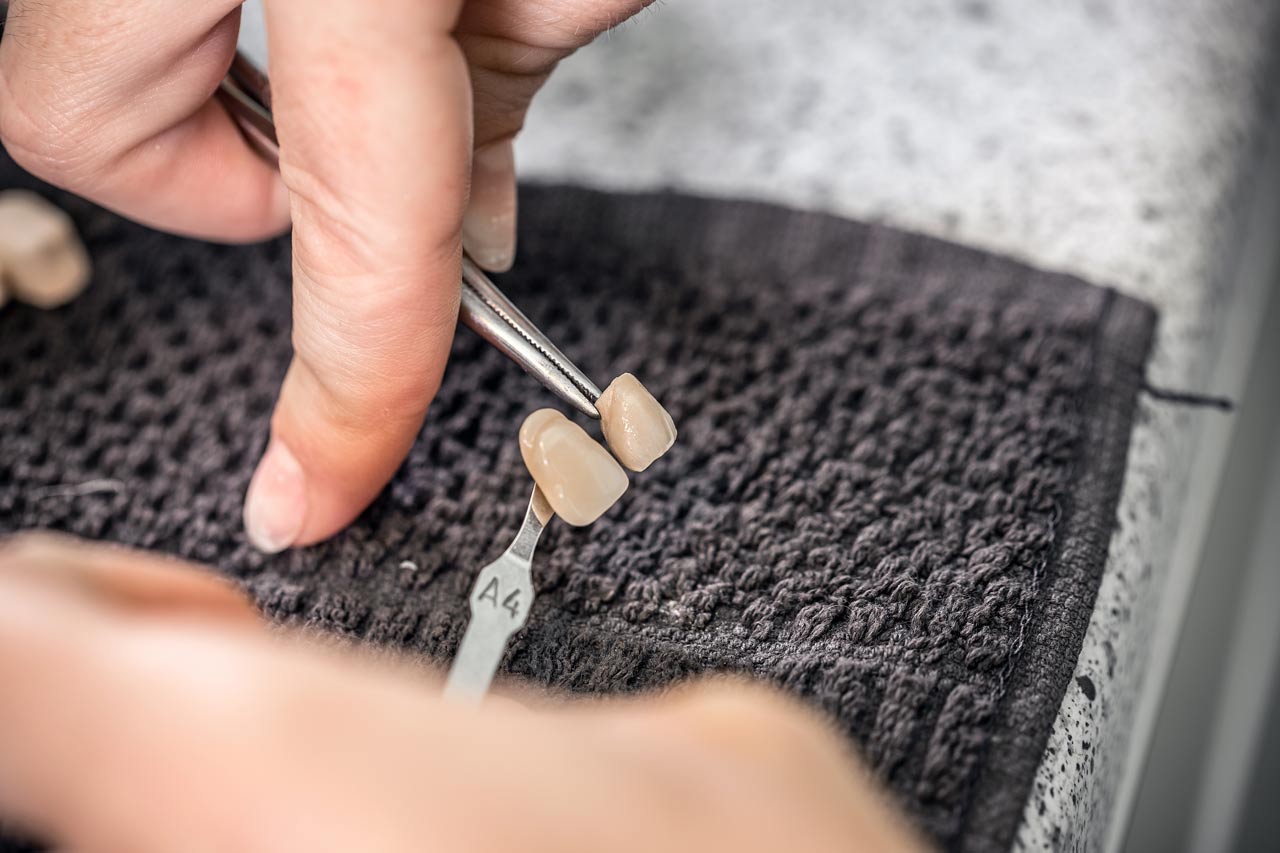 Ceramic & Porcelain
Ceramic veneers, dental veneers or porcelain veneers are laminates fabricated from a form of dental ceramic, shaped into a thin shell that's bonded directly onto the surface of existing front teeth, allowing dentists to create a fully customised tooth appearance.
Veneers are a popular form of aesthetic dentistry as they provide patients a way to fully customise their smile, by giving them a set of stainless and shiny front teeth that look perfect in almost every way.
The Dental Veneer Process
During the initial dental visit, our dentists will conduct a full dental examination, to access you suitability for dental veneers as well and address any potential issues such as gum disease which may prevent successful implementation of dental veneers. After which, a mock-up design and treatment plan is created, and presented to you. After the colour, design and translucency has been approved by the patient , the teeth are then prepared for the veneers and a mould or intraoral scan of the patient's teeth is subsequently taken and sent to a dental lab for custom-fit veneer fabrication.
During the manufacturing process, a set of temporary plastic veneers will be set in place of the permanent veneers, where patients will be able to 'try' on their new smile, while the permanent ceramic veneers are being manufactured. Adjustments to the ceramic veneers can be made, once patients are satisfied with the results. The veneers will then be permanently bonded onto teeth.
Other Dental Services
Here are some other services related to Dental Veneers that you might be interested in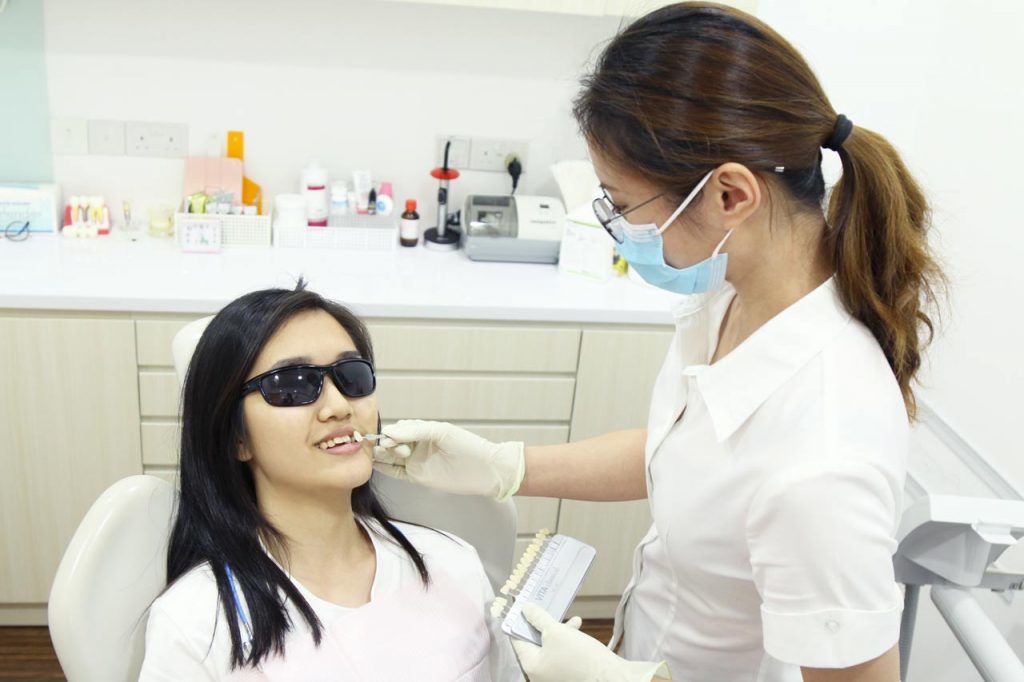 Teeth Whitening – For New & Brighter Smiles.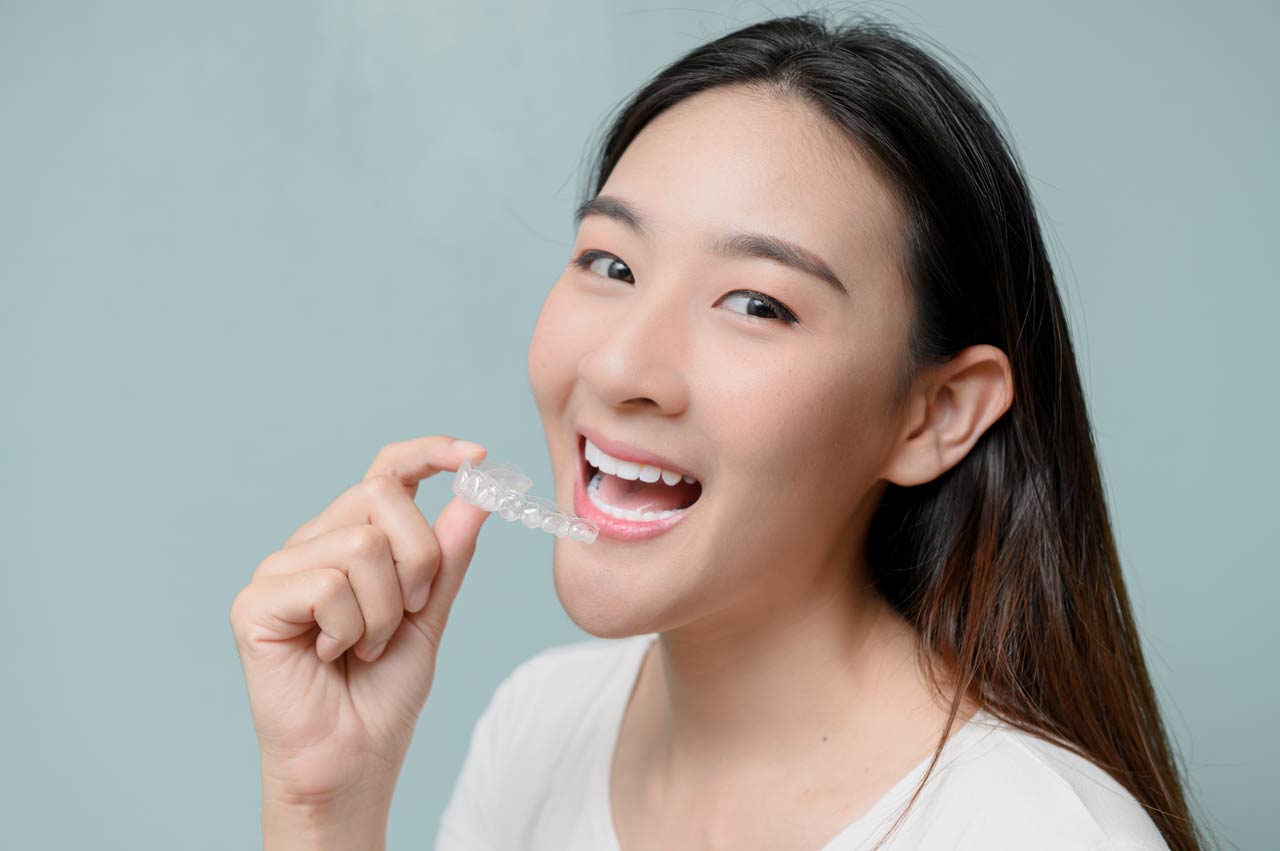 Invisalign – The Invisible Solution for Straighter Teeth.

At NoFrills Dental, we take great pride in delivering a holistic high quality dental experience through our professional excellence.
We believe in accessible & affordable dental care for all.
3 Temasek Boulevard, #03-317
Suntec City North Wing, Between Tower 1 & 2, Lobby H,
Singapore 038983
Tel: 6337 7319
6 Raffles Blvd, #B1-11
Marina Square
(Exit B, Esplanade MRT Station)
Singapore 039594
Tel: 6227 8885