Comprehensive Dental Services
General, Cosmetic, and Restorative Care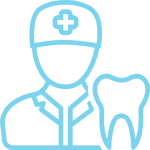 Scaling & Polishing
The purpose of scale and polish is to remove any tartar and plaque deposits building up on your teeth over a long time, including the removal of stains from tea, red wine, or coffee. Plaque is the yellow substance you see around your teeth. Patients are advised to visit their dentist for regular scaling & polishing once every 6 months. For optimal oral health.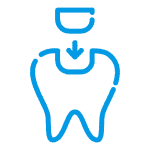 Tooth Fillings
Dental Filling treatment is used in treating a tooth cavity when there is dental decay, or is used to repair broken or chipped teeth.
Dental fillings are a form of restorative dentistry that treat oral cavities and decays present in a tooth to help to restore function in the tooth by replacing tooth structure that had been lost.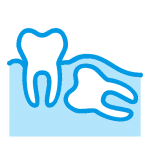 Wisdom Tooth Removal
The presence of a wisdom teeth results in a hard-to-clean space with the second molar or under the gum, when it is partially misaligned or emerged. The narrow gap has the capacity to trap food, which allows bacteria to thrive. This therefore results in tooth decay and gum infections, which has the capacity to affect the second molar, too.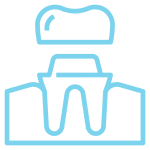 Dental Crowns
Dental crowns are permanent tooth caps that are made from metal, porcelain-fused-to-metal, or full-ceramic (porcelain), fully customised to fit the needs and smile of a person. They mainly serve as a protection for extremely decayed fractured teeth, or help serve as the permanent tooth fixture after a patient has undergone implant surgery.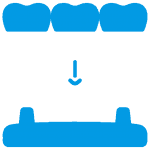 Dental Bridges
Dental bridges help in permanently replacing any missing teeth. Bridges are composed of at least two dental crowns on the teeth adjacent to the missing teeth area (gap), also known as abutments. The section of the bridge that sits over the missing tooth, and effectively replaces the tooth is called a "pontic" and it part stays on the gum between the crowns.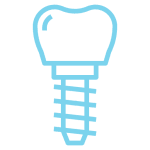 Dentures
Dentures are an affordable and effective solution that restore dental function and facial aesthetics, through the use of a fully customised dental prosthetic. Sunken cheeks and lips are supported through this prosthesis, restoring their confidence and allowing them to have basic bite function restored. With a well-fitted set of customised dentures, patients can speak, smile better, and eat better.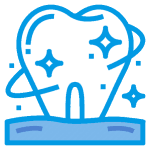 Tooth Whitening
Professional teeth whitening typically refers to teeth whitening professionally done by a dentist in a dental clinic. At NoFrills Dental, we offer patients a number of professional chairside teeth whitening brands; Opalescence Whitening and Philips Zoom Whitening. Results are noticeable after a single session that lasts between 60 and 90 minutes.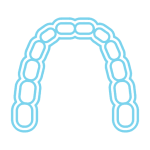 Invisalign
Invisalign treatment is an orthodontic clear aligner system designed to facilitate the adjustment of teeth for optimal dental occlusion ( straighter teeth, better bite, better smile) this treatment involves the use of a series FDA approved plastic clear aligner. The Invisalign system has been designed to be an alternative to conventional braces, allowing patients to achieve the smile that they've always wanted without unsightly metal brackets.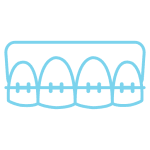 Orthodontic Braces
Braces are a form of orthodontic treatment used to correct improper bites that may have resulted from improper tooth alignment, lop-sided jaw relationships, or the occurrence of either condition. Braces have the potential of rearranging teeth and controlling or modifying facial impression and growth.
Oral Surgery & Pain Management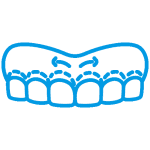 Gum Surgery
With an irregular gum line, your gums can be provably too high or too low. Which may be aesthetic and medical concern for some patients. Gum surgery is required when there is an excess of gums or a recession of the gum line. It is essential to bear in mind that the foundation of the teeth (bones and gums) requires healthiness prior to beginning the surgery.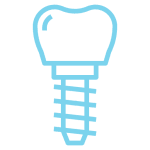 Dental Implants
Dental implants are made from titanium and positioned in the bone to substitute a missing tooth root. The function of an implant-supported tooth restoration closely resembles that of a real tooth, increasing patient quality life, boosting confidence and allowing patients to enjoy food once again.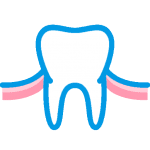 Gum Treatment
There are 2 common forms of gum disease, Gingivitis and Periodontitis. Gingivitis is the lesser form of gum disease, which is caused by inflammation of the gums, or gingiva. Gingivitis commonly occurs due to the presence of plaque, or bacteria, accumulates on the teeth causing gum bleeding, this form of gum disease is reversible.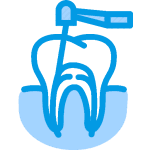 Root Canal Treatment
In root canal treatment, pulp tissues are removed from the tooth if it is either inflamed or infected. The inflammation or infection can be as a result of a large restoration or deep decay with an involvement of the pulp; or because of trauma leading to fractured tooth; dentine exposure of the pulp and excessive enamel and in some cases due to disease of the server gum.
NoFrills Dental @ Suntec City
Monday – Friday (10am – 7pm)
Saturday (10am – 5pm)
Sunday & Public Holiday (By Appointment)
3 Temasek Boulevard, #03-317 Suntec City North Wing, Between Tower 1 & 2, Lobby H, Singapore 038983
Tel: (+65) 6337-7319
NoFrills Dental @ Marina Square
Monday – Friday (10am – 7pm)
Saturday (10am – 5pm)
Sunday & Public Holiday (By Appointment)
6 Raffles Boulevard, #B1-11,
Marina Square (Exit B, Esplanade)
Singapore 039594
Tel: (+65) 6227-8885
NoFrills Dental Corporate HQ
Monday – Friday (9am – 6pm)
Saturday (9am – 1pm)
Sunday & Public Holiday (Closed)
81 Ubi Avenue 4,
U.B. One, #10-10/09/08,
Singapore 408830
Tel: (+65) 6909-9798

At NoFrills Dental, we take great pride in delivering a holistic high quality dental experience through our professional excellence.
We believe in accessible & affordable dental care for all.
3 Temasek Boulevard, #03-317
Suntec City North Wing, Between Tower 1 & 2, Lobby H,
Singapore 038983
Tel: 6337 7319
6 Raffles Blvd, #B1-11
Marina Square
(Exit B, Esplanade MRT Station)
Singapore 039594
Tel: 6227 8885